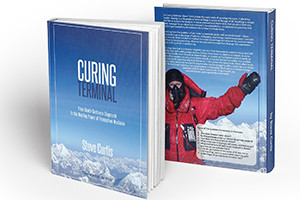 CURING TERMINAL: From Death-Sentence Diagnosis to the Healing Power of Perception Medicine
Curing Terminal shares Steve's experience of ignoring the signs that his life – as well as his mind, mind, and spirit – were out of balance, which led to a diagnosis of terminal Stage 4 cancer at the age of 25. Unwilling to accept the verdict or subject his body to the chemical forces of Western medicine that promised only to help manage and not to heal – with debilitating side effects – he shares his astonishing journey to find a cure for the incurable. The result: full regression of the disease with no treatment and the transformation of his life to one of exuberance, adventure, openness, and business success.
Steve resolved to go to the edge of science, philosophy, psychology, medicine, and even mysticism to answer the question of what part of him was controlling his body's biological systems and whether he could influence their programming. His search for answers took him from the summit of Mt. Everest to the mechanisms that trigger the body's inflammatory responses, from the latest research on the effects of meditation to new advancements in the emerging field of psychoneuroimmunology. He also highlights instances of remarkable healing and mind-over-matter achievements, including the fast-wound-healing rituals of Sufis, loincloth-clad monks melting snow in the Himalayas, the incredible endurance feats of Vim de Hof, and much more.
For Steve it's a story about choice, the choices behind who we are today and those that will shape who we want to become tomorrow. As he writes, "Health is not a process or a destination. It is a way of being." He has distilled his experience into a ten-step healing program that he believes can potentially reverse even the most serious of physical conditions.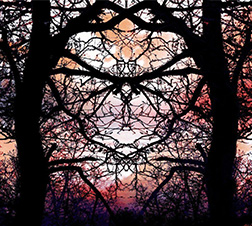 PERCEPTION MEDICINE FOUNDATION
Founded in 2014 by Steve, The Perception Medicine Foundation (PMF) is a nonprofit start-up/social venture dedicated to broadening our scientific and practical understanding of how the human mind directly influences the genesis, advancement, regression, and remission of disease.
Building on the deep work of the fields of mind-body medicine, psychoneuroimmunology, epigenetics, meditation research, positive psychology, and other credible, innovative fields of study, PMF works with leading researchers to identify, develop, execute, fund, discuss, and collaborate on projects that deepen our scientific understanding of the connection between what goes on in our heads with what goes on in the physical systems of the body.
In addition to funding traditional research, PMF also explore linkages with more esoteric and less quantifiable sciences, taking a divergent, encompassing approach to any treatment or modality that offers reliable and credible indications of merit.
ZAG GROUP
ZAG is a multi-divisional consumer products company, focused on innovation that enhances people's lives. Founded by Steve in 2001 with a $500 credit card, ZAG specializes in natural, plant-based beverage products. Set to accomplish what no one has done before, ZAG brings the healing power of plants to people in a meaningful, accessible, and affordable way that allows them to feel the benefits of the products immediately. With 135 employees in Vancouver, LA and Europe, ZAG has experienced year-over-year sales growth of more than 800% over the past two years.
ZAG is leading a paradigm shift in current policies and regulations around plant-based and natural remedies from the highest levels of politics through to the grassroots level. The company is also satisfying the desires and curiosity of consumers interested in a natural approach to complete health. Focusing on the functional beverage industry, ZAG's holistic approach includes developing and maintaining strong, mutually beneficial relationships with farmers, local communities, vendors, employees and customers.
ZAG is one of the few companies in the world drawing the link between botanicals that relax the mind and demonstrate a cascading link of decreased inflammatory cytokines that initiate disease process. Our ongoing research and development into life-changing (and life-saving) products — which are a quantum leap for the industry — continues to develop new market segments. Through extensive testing and consumer feedback, ZAG products have demonstrated clear results, which is very rare in the industry. Because of this proof, the world is taking notice, and retailers are eager to sell ZAG-branded products.
Along with ZAG's commitment to bettering the world through products that promote wellness, health and healing, we focus on philanthropic and charitable ventures and run HEARTBEATS, which annually contributes a minimum of 1% of ZAG revenue to charitable causes including two other non-profits ZAG setup.
ADVENTURE 2 ADVANCE
Founded in 2009 by Steve with the direct mandate to channel his passion for adventure into advancing social causes and creating social change. The mission at Adventure 2 Advance (A2A) is to create social awareness, growth, and change through adventures that encourage and inspire others.
A2A is made up of a group of innovative and inspiring individuals with a passion for adventure and social change. With the core belief that with passion and heart no obstacle is too big or insurmountable.  Through A2A's expeditions, A2A believes in taking action to develop and enhance our global community.
3849 Total Views
4 Views Today